Ethyl Meyer Findley - 2001 Inductee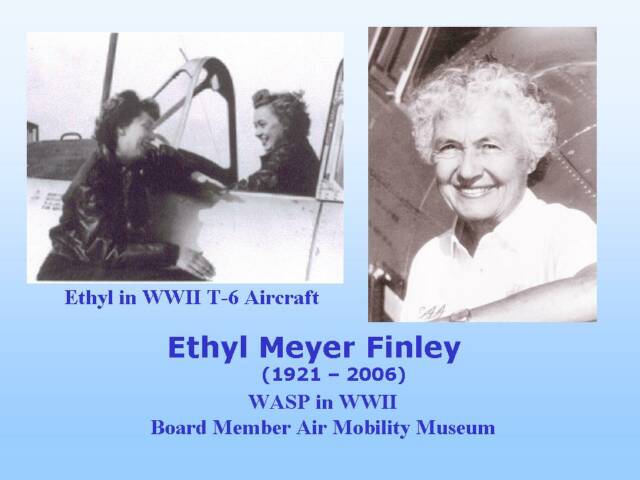 Ethel Meyer Finley was a WASP. A native of Minnesota, she won her pilot's license in 1940 in her senior year in college. Her instructor was world-famous Max Conrad.

Invited into the military Ethel Meyer won her WASP wings in September 1943. She qualified in 12 different types of aircraft and ferried planes from factories, test-hopped planes alter repairs, and taught male cadets to fly.

"The WASP instructors were the outstanding members of the squadron," stated an official report at Shaw Field, S.C. Ethel and Air Corps Colonel James A. Finley married following disbandment of the WASP Frequent visitors to Rehoboth, where his family had a home, they moved permanently in 1980. The Finleys had two daughters and a son. Col. Finley died in 1988.

Active in the WASP WWII organization, Ethel has served as national president and as editor of WASP News. She served two terms as director of Region One, which includes Delaware. She is now responsible for the region's newsletter and air show participation.

She is on the board of the Air Mobility Command Museum Foundation. She holds the Trailblazer Award of Delaware for her work in establishing half-way houses for women and for service on the Delaware Commission for Women.

Mrs. Finley was nominated to the DAHF by Jane A. Fredd of Newark.