James R. Leech - 2001 Inductee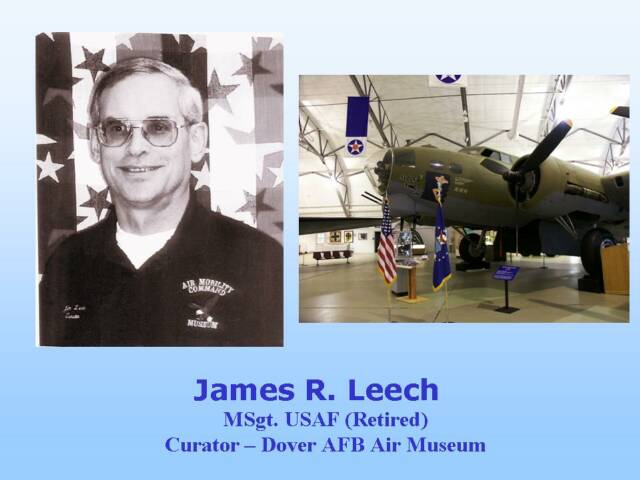 James R. Leech, curator. The museum at Dover Air Force Base is the official aircraft museum of the nation's Air Mobility Command. It was accorded "command museum'' status in 1997 after a single but feverish decade of acquiring and restoring some of America's most famous military planes. Today, the facility features 23 "warbirds" (plus giant C-5 Galaxies that occasionally park on the apron outside the museum).

A key force behind this remarkable advance to official status is curator James R. Leech.  A flight line supervisor responsible for nine C-5s, the master sergeant left his post "temporarily` in 1986 to help get the museum up and running. But wing commanders, cognizant of his effect¬iveness and dedication to the project, permitted him to round out his active-duty career at the museum. He retired in 1991.

Blessed with a host of dedicated volunteers, Jim has led the restoration of all aircraft in the museum's collection, and he designed a public tour with narration that places planes in historical context. Open Iree to the public seven days a week, the museum has become a leading attraction for school classes, not only from Delaware buy also Gom neighboring states. Jim was co-recipient of the Governor's Tourism Award for 1999.

A Dover AFB wing commander termed Jim "a true aviation heritage pioneer" and a "leader who makes things happen." Good thing: The museum has several big transports awaiting restoration.

Mr. Leech was nominated to the DAHF by several colleagues.