Walter C Evans Sr. - 2001 Inductee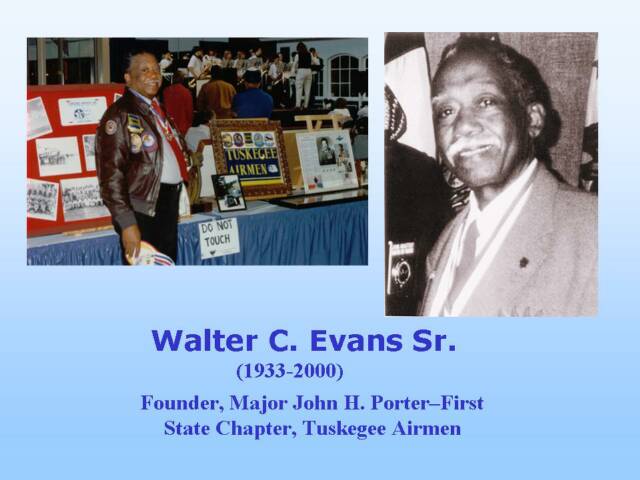 WALTER C. Evans, Sr. (1932-2000) was not a pilot, but he kept in hot pursuit of a boyhood dream-to memorialize the Tuskegee Airmen. Named after their training site in Alabama, his heroes were black fighter pilots who flew over Europe in World War II. They downed or damaged some 400 enemy aircralt without losing a single bomber they escorted.

Walter, a Smyrna native, was a decade younger than the generation of pilots he idolized; he served four years in the Army during the 50s. In 1959 he earned a degree in electronics and physics at Temple University and went to work at Dover Air Force Base as a civilian.

It was during his years at DAFB, where winged reminders of the Tuskegee Airmen abound, that Walter took key steps toward his goal. He joined the Philadelphia chapter of Tuskegee Airmen, Inc. Then, in 1986, he formed the Major John H. Porter-First State chapter, named in honor of the late Tuskegee Airman. Walter served as president until his death last year.

The Delaware chapter is recognized as one of the most effective in the United States. It carries out a multi-faceted public education program and sponsors scholarships for youths seeking careers in aviation.

Founder Walter Evans was nominated to the DAHF by the members of the John H. Porter First State Chapter, Tuskegee Airmen, Inc.