Joseph G. Gilliland - 2004 Youth Award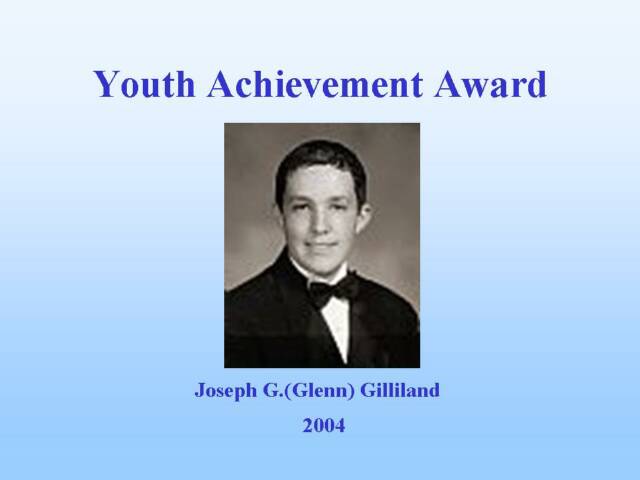 The selection committee this year elected Joseph G. (Glenn) Gilliland, l 8-year-old son of James G. and Jody Gilliland of Clayton.

    Awarded an Air Force scholarship, Glenn entered the University of Delaware this fall. His goal is to become a commissioned pilot after completion of the AF Reserve Officers Training Corp (ROTC) program majoring in mechanical engineering. He attained the rank of captain in the Junior ROTC at Polytech High School in Woodside.

    Glenn already knows how to fly light aircraft. A 2004 graduate of Polytech, he was the only student in his class to obtain a pilot's license in his senior year.

    At Polytech, he made the honor roll every marking period. He ranked eighteenth among his graduation class of 243; he received the Presidents Educational Award for Outstanding Academic Achievement four years in a row.

    While excelling in academics, he was active in school and community programs. He earned the Eagle rank in Scouting; he earned the Governor's Youth Volunteer Service Award.

    "Glenn's dedication to his aviation training, his personal development to achieve his educational goals, and his leadership among his peers in the community are unsurpassed," said his nominator Dr. Peter Bailey, Chairman of the Department of Business at Wilmington College.