Lee Vanaman - 2006 Youth Award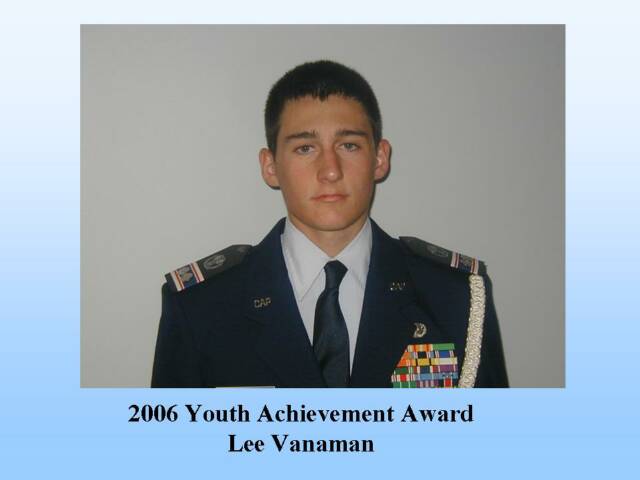 Sixteen-year-old Walter Lee Vanman of Georgetown, Del., has his heart set on winning his wings at one of America's military academies.You can bet on it!

    Lee, as he is called, is this year's winner of the Delaware Aviation Hall of Fame Youth Achievement Award.

    Like his hero Chuck Yeager, Lee has all the right stuff. He made up his mind when he was in the fifth grade that he was going to serve his country in the military. He has been an active member of the Civil Air Patrol (CAP) since age 11. He's a member of the Junior Reserve Officers Training Corps (JROTC) at Sussex Technical High School where, now a junior, he is preparing for an engineering major in college. He advanced to the rank of first lieutenant, and last summer was promoted to commander of the Sussex County CAP cadet squadron.

    Cadet Vanman was awarded a CAP flight training scholarship and plans to become licensed before high school graduation. Several prominent military organizations have recognized him for "outstanding achievement" and "exceptional leadership." He has received Delaware Attorney    General and House of Representatives commendations, and recognition from DelDOT for his service as an aerial reporter for traffic control.

    He is the son of Walter and Lauren Vanman. Mr. Vanman is a machine repair supervisor at a dental equipment manufacturer; Mrs. Vanman is in real estate sales at Rehoboth Beach.

    Lee has an 11-year-old sister, Sarah.