Willie Gonzalez - 2011 Youth Aviation Achievement  Award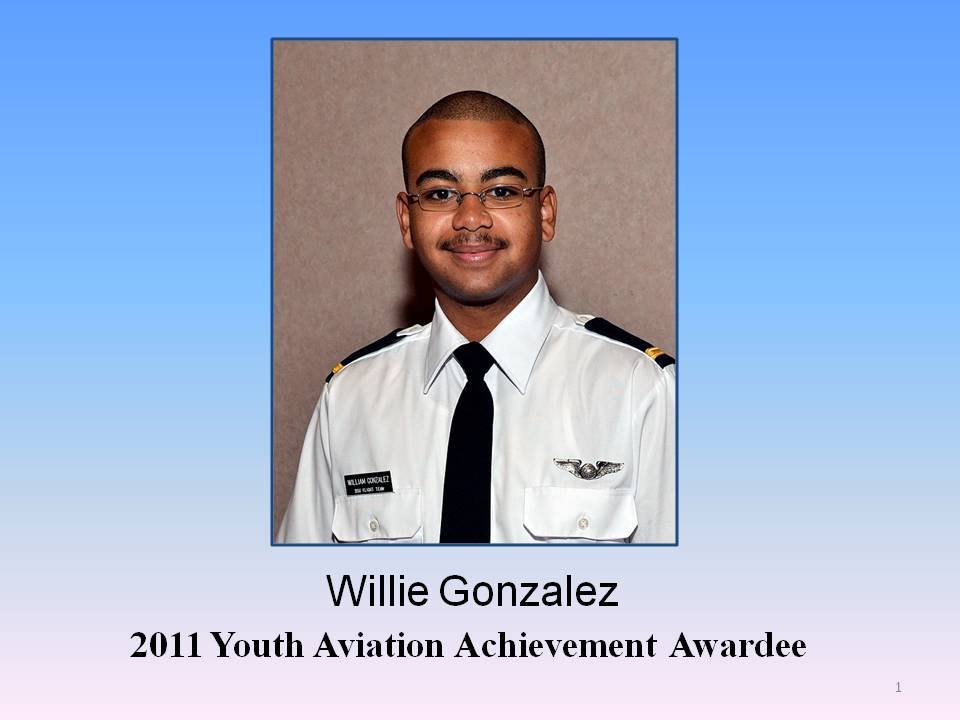 Willie Gonzalez, 19, of New Castle, Delaware  has already begun a successful career in aviation. Willie was a four year cadet in the Air Force Junior ROTC Aerospace Science program at William Penn High School in New Castle. During his fourth year, he was Commander of Cadets and No.1 in a corps of 166 cadets.  He was responsible for the student leadership and activities in a group comprised of 9th through 12th graders. As such, he planned, instituted, and implemented community service projects, competition teams, and community ambassadorship programs for the service-oriented ROTC program. Under his leadership, the  corps assisted a local food bank, the Toys-for Tots program, Friends of Bellanca Aviation, Adopt-a-Highway, and Shoes2Share.

Maj Steven Michael, Senior Aerospace Science Instructor, stated that Willie is an excellent student and was a mature cadet who used his leadership skills to teach the younger cadets to deal with negative peer pressure. He also taught by example in demonstrating the courage to stand up  for his principles in the face of ridicule and apathy. He earned the respect and encouragement of all his teachers with his diverse academic record.

Currently, Mr. Gonzalez is a rising sophomore at Delaware State University (DSU) where he is majoring in the Airway Science Program.  His objective is to have a career as a professional airline pilot. After one year in the program, he has earned a private pilot certificate and is co-captain of the DSU "Flying Hornets" competition team.

Mr. Gonzalez has demonstrated his ability to communicate, coordinate and motivate a cross-section of young men and women in a variety of situations and is well on his way to a successful aviation career.