James Reagan - 2012 Youth Aviation Achievement  Award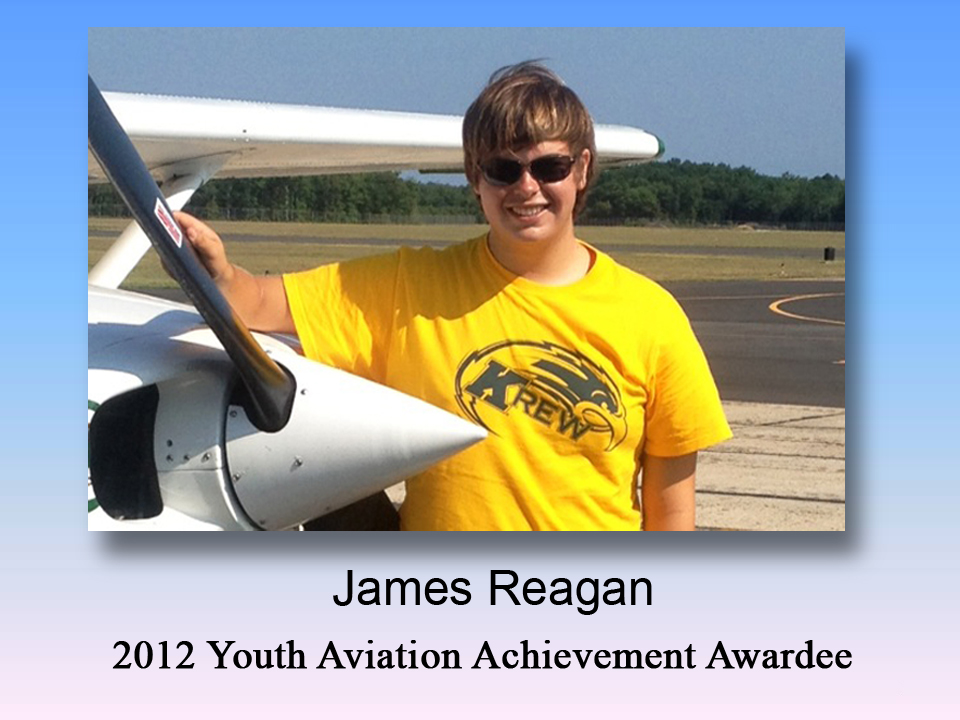 James Reagan, 19, of Hockessin, is an honors level June 2012 graduate St. Mark's High School and is attending Kent State University in Ohio, majoring in Flight Technology and with a minor in Airport Management. He started his flight training and flying lessons in November 2009 and earned his Private Pilot wings in December 2011. He has also achieved a High Performance rating and a tail dragger aircraft qualification rating. Because of Jimmy's volunteer work at New Garden Flying Field (NGFF) Flight Connection School in nearby Pennsylvania, he was awarded a scholarship to assist in his flight training costs.

Jimmy has been working part-time at NGFF as line personnel, fueling aircraft, interacting with pilots, plowing snow off the runway and other general tasks. He works as camp counselor at Future Aviators summer camp at NGFF, assisting youngsters who have an interest in aviation. He also has been an active member of Experimental Aircraft Association Chapter 240 (160 members), based at NGFF where he is in charge of the chapter's fly-outs to regional destinations and is an active contributor to fund-raising efforts such as pancake breakfast fly-ins.

Despite his youth, Jimmy is regarded as a full and contributing member of the NGFF and Chapter 240 teams which have helped him pursue his love of flying.

Jimmy's outstanding performance at St. Mark's H.S. in academic, athletic and extra-curricular activities, combined with his proven leadership qualities, have prepared him well for a successful flying career. His parents are Linda and James Reagan, Sr.