Chanel Riviere-Francis - 2022 Youth Aviation Achievement Award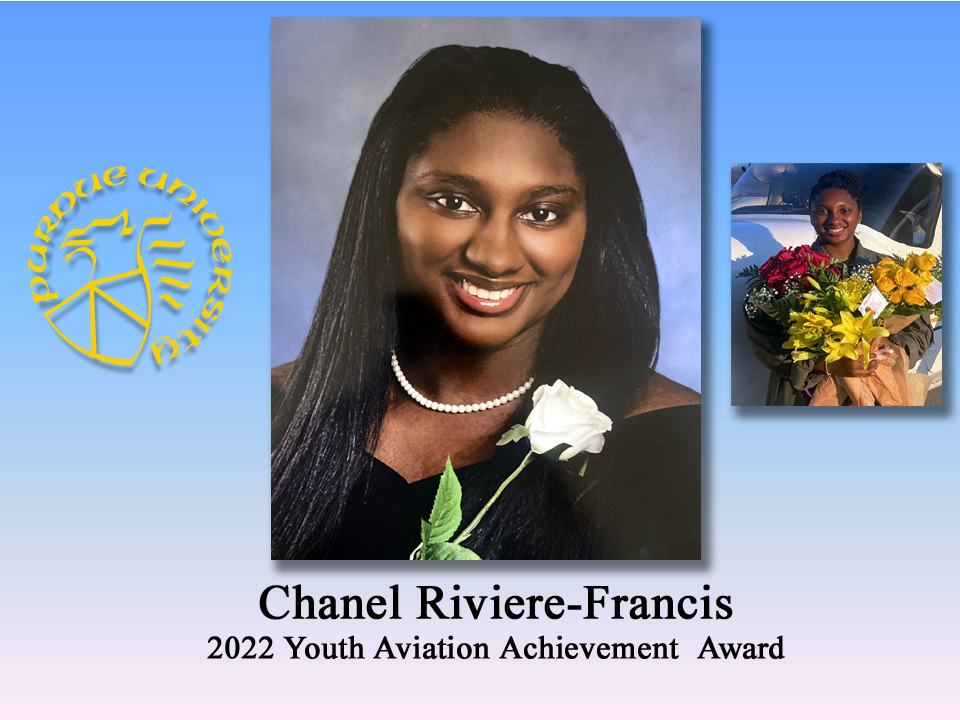 Chanel Riviere-Francis .Chanel has always been a Global Citizen. To those who know her best, it was no surprise that she chose to follow her passion for travel and aviation. At age 11, she was appointed as a Student Ambassador to represent the United States of America for the People-to-People Ambassador Program, where she traveled for six weeks to London and Paris.

At age 13, she had a discovery flight and fell in love with the sky. At the age of 17, while a junior in high school, she earned her Private Pilot Certificate through an Air Force JROTC Flight Academy Scholarship.  Chanel earned her Private Pilots License in 6 weeks acquiring over 48 flight hours at Purdue University.  She also participated on the Purdue Flight Team, enrolled in ground school, and passed the FAA written exam for an Instrument Rating.  She maintains currency with the aviation community with active memberships in organizations such as the Ninety-Nines, Sisters of the Sky, and others.  She also worked as a Line Service Agent at Wings Field in Pennsylvania.

Chanel also is active with memberships in social related organizations.  In the New Castle County Chapter of Jack and Jill of America Chanel served as Senior Teen President, and other leadership positions.  With the American Red Cross, she earned her Lifeguard and Babysitting certifications.  She also participated in many after school programs and earned a Community Service Award and an Outstanding Youth Award.

In June 2022, Chanel graduated with Honors from Appoquinimink High School in Middletown, Delaware. She has gone on to attend Purdue University, where she is currently studying under the aviation program in pursuit of becoming a Commercial Airline Pilot.