Giusseppe Mario Bellanca - 2000 Inductee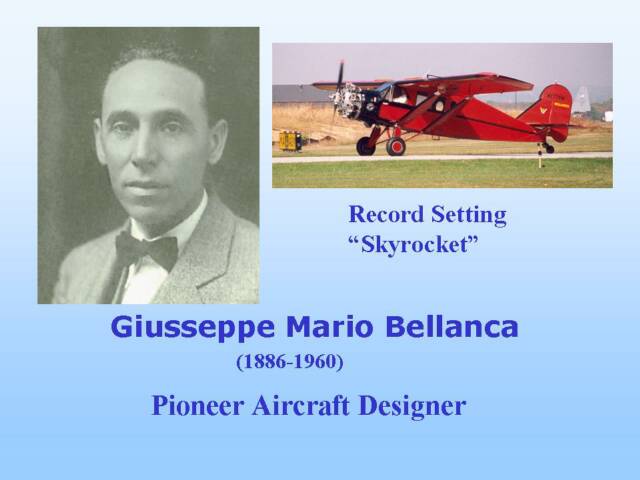 Giuseppe Mario Bellanca (1886-1960), aerospace designer and inventor, came from Sicily to America in 1912. He built and learned to fly in his own airplane and ran a flying school on Long Island. One of his first students was Fiorello LaGuardia.

"GM" applied his principles of lift, propulsion and control when he constructed the first cabin monoplane in America in 1922. This remarkable airplane amassed 13 victories in competition in a single year.

He established Bellanca Aircraft Corporation in New Castle in 1927, and during the years 1928 through 1954 produced several hundred civilian and military planes. Almost every model made the record books for speed, endurance, range or efficiency.

Just two weeks after Lindbergh's historic flight, a Bellanca airplane flew New York nonstop to Eisleben, Germany, a trip 10 hours beyond Paris.

In 1931 a Bellanca design (Miss Veedol) made the first transpacific nonstop flight (Tokyo to Wenatchee, Wa.). In the same year, a Bellanca airplane broke the world's endurance record by flying 84 and a half hours without refueling. This record remained intact until the Rutan Voyager around-the-world nonstop flight in 1986.

August Bellanca nominated his father and will accept the Delaware Aviation Hall of Fame medal on his behalf.