George Durney - 2000 Inductee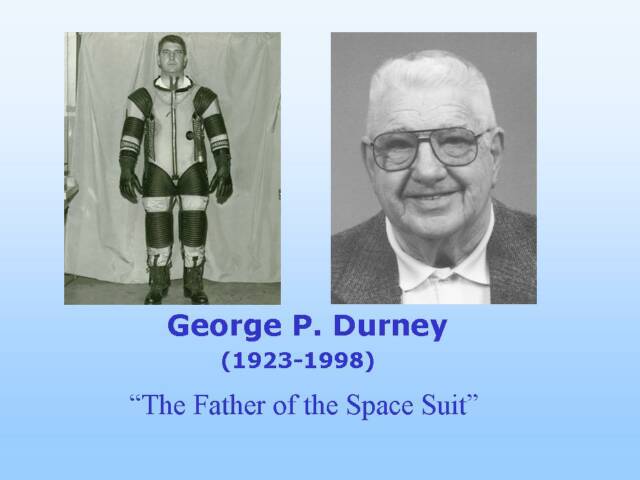 George P. Durney (1923-1998) left his footprints not only in the sands of earth but on the moon as well, for he was "The Father of the Space Suit."

George learned to fly as a teenager in Dover and joined the Air Corps at the outbreak of World War II. At first he ferried airplanes to England, then he joined a fighter group flying P-39 Aircobras and later a bomb group operating B-1 7s. After 480 combat hours, he was shot down over Austria. He and his crew survived but spent 14 months as POWs. Besides the Purple Heart, George earned the Air Medal with three Oak Leaf Clusters and Silver Star.

After the war, he crop-dusted in California, where he became concerned over exposure to chemicals. He entered UCLA, taking courses in materials and design with the aim of creating protective flight suits. In 1962, Playtex (now ILC Industries) of Dover recruited him as Project Engineer for the Apollo Suit Program. The garments his group created beat out two other high-profile competitors for the NASA contract.

George has been widely decorated for his achievements. One of the most cherished of recognitions is ILC's annual George P. Durney Pride Award, given to an outstanding employee.

George is survived by his wife, the former Lucy Jane Tremayne of Wilkes-Barre, Pa., and two children. Lucy Jane lives in Dover.

Richard C. Pulling, Sr. of Dover submitted the nomination.