Colonel (Ret.) James R. Sulpizi - 2000 Inductee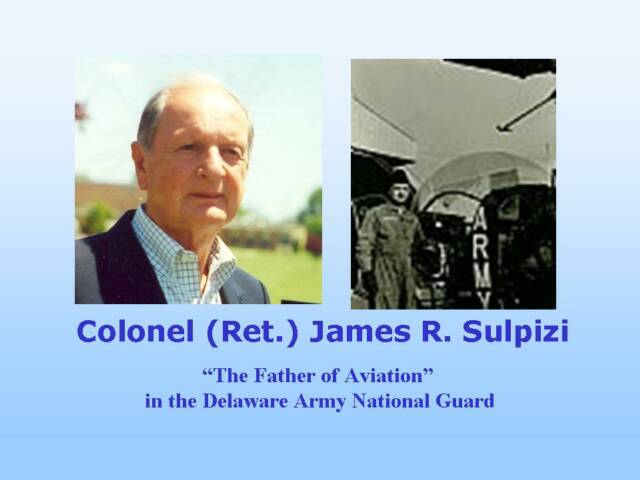 Colonel (Ret.) James R. Sulpizi (1930-2017) "The Father of Aviation" in the Delaware Army National Guard. A kid from New Castle, he joined in 1950 and served in the enlisted ranks until commissioned a second lieutenant in 1953. Graduating from Army flight school at Fort Rucker Ala., in 1957, he embarked on a distinguished career that led to his ultimate appointment as the first State Army Aviation Officer.

Jim guided the Delaware program through major reorganizations, each involving changes in mission, aircraft types, and training. As Guard aviation units expanded nationwide, the Delawarean was first, in 1963, to be named commander of an organization known then and now as the Army Aviation Support Facility.

His unit was recognized as one of America's finest.

Jim was widely decorated for his achievements, but he is best-remembered for his dramatic act of heroism in 1962. At high risk to his own life, the young captain rescued seven Coast Guardsmen and three Army Guardsmen from heavy Atlantic seas in gales far exceeding design limits of his single-passenger helicopter. Lifting one at a time to Rehoboth Airport, where he refueled, he persisted for more than six hours. He was awarded the Distinguished Flying Cross.

Colonel Sulpizi retired in 1984 with more than 5,000 helicopter and fixed-wing hours. He was nominated by Col. David R. Hamm, Delaware State Army Aviation Officer.