Janet I. Churchill - 2000 Inductee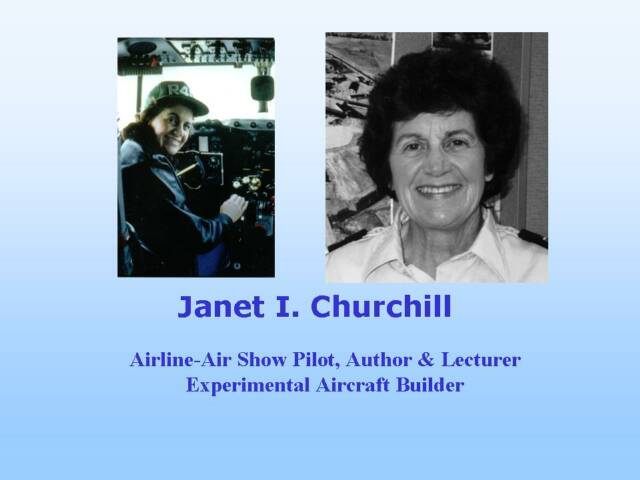 Janet I. Churchill's contributions to Delaware aviation as pilot and aviation promoter are legion, and they continue in full force. A former airline pilot, she holds an air transport pilot certificate with multi-engine and instrument flight instructor ratings. She also holds a seaplane rating, and has accumulated more than 13,000 hours in aircraft types ranging from the J-3 Cub to the F-14, F-16 and C-5B. She's been an air show pilot for 21 years, flying the C47/R4D, the O-1 and her own 0-2.

Jan is an aircraft commander for the U.S. Coast Guard Auxiliary and squadron commander of Warbirds Squadron 8 of the Experimental Aircraft Association (EAA). She is an FAA safety counselor and a flight advisor in the Wilmington Delaware Chapter of the EAA. She herself has owned and restored several warbirds.

A prolific writer and lecturer, the New Castle resident contributes to several aviation periodicals, and has authored three books on aviation, including one on the Delaware-based Women Airforce Service Pilot (WASP) corps of World War II. Her latest aviation book, "Classified Secret", debuted early this year.

Jan was president of the Memorial Foundation that in 1995 erected the Charles Parks statue at New Castle County Airport honoring the WASPs.

She was nominated by Janet R. Corbett of Wilmington.