DATE : November 2, 2019

20th Annual Banquet to Honor Pilots With Accolades and Fellowship

Get set for a special evening in the history of the Delaware Aviation Hall of Fame (DAHF). The annual honors banquet is scheduled for Saturday, November 2nd, at the University of Delaware's Clayton Hall in Newark, Delaware.

The center of attraction—six of the First State's most distinguished people of aviation—will be honored with music, decorations and ovations, and the glamour of Clayton Hall with its colorful table decor, tastefully prepared dinner, and charming serving staff.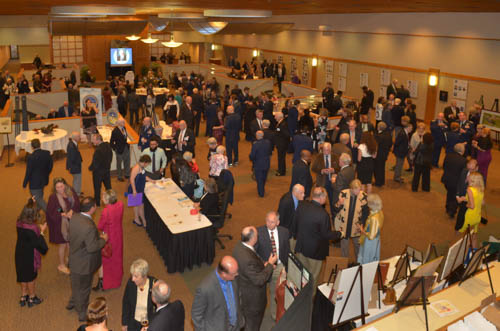 Hangar Flyin' and Cocktails- 5:00pm

The evening will begin with a cocktail and hors d'oeuvre reception, starting at 5:00 pm, in Clayton Hall's fireplace lounge. This has become an annual opportunity for aviation people to meet and catch up on "what's new" and to greet the honorees, says Maj.Gen(Ret) Frank Ianni, DAHF trustee and general chairman for the celebration. Background music will be provided and photos, reproduction prints and models of U.S.aircraft will be exhibited around the hall. A continuous video gallery of DAHF inductees will be projected on a big screen. Plus, memorabilia of each 2019 honoree will also be on display.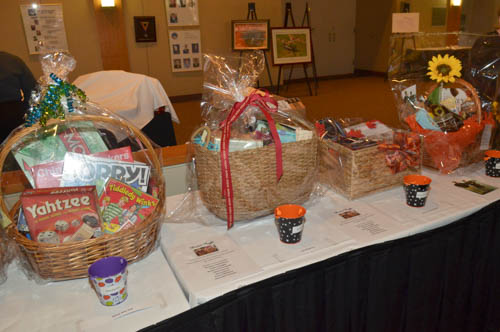 Also planned are a silent auction and 50/50. Please visit this site for more information as we near the day of the honors banquet.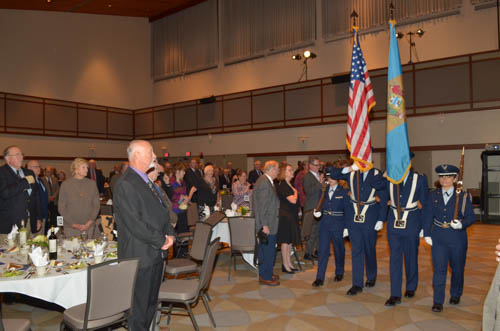 Cash bar:

Cocktails, highballs and wine will be available at the lounge bar. Bottles of wine for the table may be bought at the bar.

Ceremony and Dinner- 6:00pm

Celebrants will be ushered into the Clayton Hall dining room. The Master of Ceremonies will officiate the ceremony and call for the Color Guard to open the ceremony. Invocation will be delivered before the dinner.

The Program

Following dinner, the Emcee will welcome everyone and recognize the dignitaries who are present.

Following the introductions, a DAHF Trustee will introduce the DAHF Youth Aviation Award winner for 2019.

Presentation of Inductees:

The Emcee will call the honorees and their "wingmen", separately by alphabet, to the platform. (Following their selection, each honoree was assigned a member of the DAHF board to serve as his/her liaison. Fittingly, they dubbed themselves "wingmen").

Each wingman will escort their honoree to the platform, and introduce them to the audience. At the conclusion of their introduction,  DAHF President Bruce Lambrecht will award the honoree a plaque and ribboned medallion in honor of their induction to the Hall of Fame.

The evening will conclude with remarks by the President, retirement of the Colors, and singing of patriotic melodies to include "God Bless America".

What to wear?

It's jacket and tie for the men. Uniform works handsomely for the military. For civilian women: cocktail dress; slacks are fine.