22nd Annual Banquet to Honor Pilots With Accolades and Fellowship

A special evening in the history of the Delaware Aviation Hall of Fame (DAHF) was held on Sunday, October 30th, at the Hockessin Memorial Hall in Hockessin, Delaware. The center of attraction—seven of the First State's most distinguished people of aviation, plus a Youth Aviation Achievemnt Award winner—were honored with decorations and ovations, all within the Memorial Hall with its colorful table decor, tastefully prepared dinner, and helpful serving staff.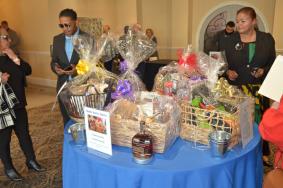 Hangar Flyin' and Cocktails

The evening started off with a cocktail and hors d'oeuvre reception in the Memorial Hall. This presented an opportunity for aviation people to meet and catch up on "what's new" and to greet the honorees. Photos, reproduction prints and models of U.S.aircraft were exhibited around the hall. A continuous video gallery of DAHF inductees was projected on a big screen. Plus, memorabilia was on display at each of the 2022 Inductee's tables.

Ceremony and Dinner

The celebrants were ushered into the Memorial Hall's banquet room. Master of Ceremonies LeSans Alexander officiated the ceremony by calling on Thom Moore, the Happy Bagpiper, to lead the procession into the hall. The Delaware Military Academy Color Guard opened the ceremony with the posting of the colors. Following the Pledge of Allegiance, the  "Star Spangled Banner" was sung by Rose Lombardi.

The Program

Following dinner, Vice President LeSans Alexander welcomed everyone and recognized the dignitaries who were present.

Presentation of the Youth Aviation Achievement Award:

Presentation of Inductees:

The 2022 honorees and their "wingmen" were called, individually by alphabet, to the platform. (Following their selection, each inductee was assigned a member of the DAHF board to serve as his/her liaison. Fittingly, they dubbed themselves "wingmen").

Each honoree was introduced by their wingman to the audience. At the conclusion of each of their introductions,  DAHF Vice President LeSans Alexander awarded each inductee with a plaque and ribboned medallion in honor of their induction to the Hall of Fame.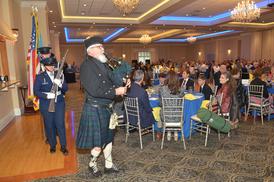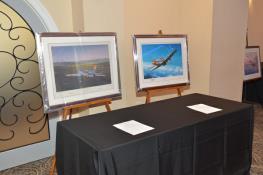 Scott Alwine

Lloyd Austin

Hugh Broomall

Larry D. Kelly

Walter LeKites III

Mrs. Jo Manship

William Welser III

.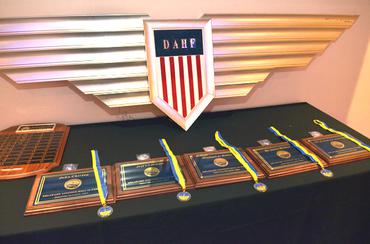 The basket raffle was a huge hit with a variety of specially designed baskets and prizes awarded.